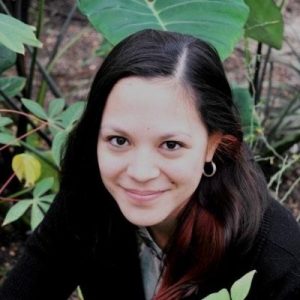 Education
UC Berkeley, Alexander von Humboldt Feodor Lynen Fellow, 2019-2021
ETH Zürich, Dr. sc. in Environmental Systems Science. 2017
Columbia University, MPA in Environmental Science & Policy. 2009
UT Austin, BS in Human Biology, BA in Latin American Studies. 2008

Research Interests
I am an agroecologist by training and my background includes experience in tropical field ecology, social science, environmental policy and international development. My dissertation research focused on plant-soil interactions and farm-management decisions in smallholder cocoa agroforests in Indonesia. I have worked for / collaborated with NGOs and public sector institutions including the World Agroforestry Centre, the World Bank, IFAD, UNDP, the French National Institute for Agronomic Research, the Asia-Pacific Network for Sustainable Forest Management and Project Drawdown.
I'm interested in human-nature interactions and natural resource use equity, and seek to better understand the ecological and socioeconomic implications of agricultural policies and global commodity-crop trade dynamics. In my research I investigate how agriculture drives land-use change and how this impacts ecosystems and people – currently in northern California and in the Argentine Chaco.
When I'm not reading, writing, or poring over R-code lines, I can be found creating things, listening to and playing music, or spending time outdoors.
Selected Publications
Schwab B, Wartenberg A, Butsic V. "Characteristics of farms applying for cannabis cultivation permits." California Agriculture 73 (3), 128-135 (2019).
Wartenberg A, Blaser W, Roshetko J, Van Noordwijk M, Six J. "Soil fertility and Theobroma cacao growth and productivity under commonly intercropped shade-tree species in Sulawesi, Indonesia." Plant and Soil, 1-18 (2019).
Wartenberg A, Blaser W, Janudianto, Roshetko J, Van Noordwijk M, Six J. "Farmer perceptions of plant–soil interactions can affect adoption of sustainable management practices in cocoa agroforests: a case study from Southeast Sulawesi." Ecology and Society 23.1 (2018).
Holidays with the whole family – how great it is! You can finally escape from boring everyday life and just be with those you love. Indeed, in the campaign you can not only get new impressions, but also get to know each other in a new way! Children and parents become closer, spending the evening by the fire and falling asleep together in a tent. They tell each other secrets while walking along a mountain path, support and "cheer" for each other. Did you know that climbing with kids your child is great at climbing trees? And what loves corn porridge? Does your child know that you are very good at carving wood with a knife? It's time to dedicate the whole holiday to each other!
Wartenberg A, Blaser W, Gattinger A, Roshetko J, Van Noordwijk M, Six J. "Does shade tree diversity increase soil fertility in cocoa plantations?" Agriculture, Ecosystems & Environment 248 (2017): 190-199.