Cannabis agriculture is booming in California, transforming social relations and natural environments.  We are interested in how cannabis liberalization is playing out on the ground.  How is cannabis agriculture impacting the environment?  How is it impacting traditional agricultural producers?  How is it impacting land markets?
To answer these questions, our team has mapped nearly 3 million cannabis plants in Northern California.  Research is ongoing, but a few of our main results thus far are:
Cannabis agriculture is common in Northern California, but it is not evenly distributed.
Cannabis agriculture is often located areas that may have high environmental sensitivity.
Cannabis farmers tend to cluster on the landscape.
Cannabis agriculture can lead to forest fragmentation. 
Cannabis farms are usually small – less than 1 acre.
To learn more about cannabis production in California, cannabis producing communities, and the environment please visit the Cannabis Research Center at UC Berkeley and check out the cannabis special issue of California Agriculture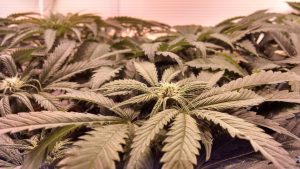 Cannabis Permit Applications
Recent legalization of cannabis in California and neighboring states, and subsequent increases in demand, are leading to the rapid transformation of the cannabis production sector in the state. Changes in cultivation dynamics are likely to influence future land use patterns. In this context, we are exploring links between policy changes and land use practices. With collaborators at Kansas State University, we have collected a preliminary set of data regarding cannabis growing operations and associated permit applications in Humboldt County, with the goal of evaluating patterns or spatial trends in the demand for land permits pertaining to cannabis production.